Outdoor Mesh Banners / Fence Mesh Banners
---
| | | | | |
| --- | --- | --- | --- | --- |
| | 4.0 ft | 5.0 ft | 6.0 ft | 8.0 ft |
| 6.0ft | $100.00 | $135.00 | $170.00 | $205.00 |
| 8.0ft | $120.00 | $170.00 | $210.00 | $250.00 |
| 10.0ft | $140.00 | $195.00 | $250.00 | $300.00 |
| 12.0ft | $160.00 | $225.00 | $295.00 | $350.00 |
| 14.0ft | $180.00 | $250.00 | $330.00 | $390.00 |
| 16.0ft | $200.00 | $285.00 | $365.00 | $475.00 |
| 18.0ft | $240.00 | $350.00 | $455.00 | $560.00 |
| 20.0ft | $280.00 | $415.00 | $545.00 | $680.00 |
Discount starts at 2 units with the same or different artwork.
Adobe Acrobat File Setup Template(s)

Mesh Banner Artwork Setup Notes

Download
Price Calculator
---
(Does not include shipping time)
2 Business Days
---
Full color digital printing Incl.
Contact Us
for larger quantities.
Perfect for construction site fences as the mesh banner material lets the air through so the fence doesnt blow over. We print in full colour at a high resolution onto a strong 330gsm mesh banner material.

Uses include indoor/outdoor signage, windy areas, construction fencing, sporting events, scaffolding covers, window blinds.


More Picture(s)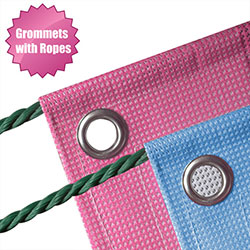 ---
Customer Reviews
5.0 out of 5 Stars. Based on 46 reviews
---
By Alan Mobley on Oct 07, 2021
---
By Jason Hall on Sep 02, 2021
---
By adndrew malin on Aug 26, 2021
---
By william sanford on Jul 27, 2021
---
By Travis Higginbotham on Jun 06, 2021
---
By Margie Resto on Jun 04, 2021
---
By Brian Haun on May 27, 2021
---
By Jessie Arvizu on May 25, 2021
---
By Howard Marcus on May 05, 2021
---
By Nicole Davis on Apr 11, 2021
---
We're here for you (COVID-19 update)
---
Related Items